Zekes Mobile Notary
Based in Bakersfield, Ca
LOCALLY OWNED and OPERATED
OPEN 7 DAYS A WEEK
***
>>>>On-Line Service Request Form<<<<
(833) 683-4637
Business Line 800 Number - No Text
Holidays: New Years Day, Memorial Day, Independence Day, Labor Day, Veterans Day, Thanksgiving Day and Christmas Day
(Extra Service Fee for Holidays)
***
I ONLY OFFER MOBILE NOTARY SERVICES
BECAUSE I HAVE NO OFFICE...
I am Licensed, Bonded with E&O Insurance & Background Check
***
REGULAR HOURS
Regular Business Hours 8:00am to 8:00pm
Notary Fees + Travel Fees = Total Cost
***
AFTER HOURS with ADDITIONAL FEES
Late After Hours: 8:00pm to Midnight - $25
Emergency After Hours: Midnight to 5:00am - $50
Early Morning Hours: 5:00am to 8:00am - $15
Notary Fees + Travel Fees + After Hrs. Fees = Total Cost
***
THERE ARE NO HIDDEN FEES...
***
Notary fee per signature has increased from $10 to $15 per signature. Effective January 01, 2017, California has changed the maximum allowed fee per signature to $15 instead of $10 that it has been previously.
***Remember that per signature means per signer, per document. So two (2) signers on the same document is two (2) signatures, and it is NOT how many times the notary is required to sign or stamp.
Our fee structure and schedule remains unchanged currently. So our pricing will be the same as listed, and as expected.
Each Notary Signature is a fixed $15.00 each
***
Additional Miscellaneous Notary Fees May Apply:
Courier Service: Pick Up, Deliver and Drop Off (Varies)

Traveling Between Clients to Sign Documents (Varies)

Scan Documents to Email

(.50 per Page)

Faxing Documents

(.50 per Page)

Drop Off and Mail Your Documents via USPS (Varies)

Photo Copy and Print Additional Docs for Clients

($1.00 per Page)

Parking (Varies)

Excessive Waiting Time ($15 For Each 15 Minutes)
***
I'll come to your home, your place of business or meet you at a Local Coffee Shop near you. For a nominal fee, I'll travel to Lerdo County Jail, Kern Valley State Prison and local communities in Kern County.
***
IF I HAVE TO TRAVEL WITHIN THE CITY LIMITS OF BAKERSFIELD OR BEYOND THE CITY LIMITS OF BAKERSFIELD. THERE WILL A TRAVEL FEE CHARGE:
| | |
| --- | --- |
| 0 Miles | Bakersfield City Limits |
| 1 to 20 Miles | Shafter, Wasco, Famoso, Fuller Acres, Lamont, and Weedpatch |
| 21 to 30 Miles | Delano, Taft, McFarland, Five Dog Range, Arvin and Buttonwillow |
| 31 to 40 Miles | Allensworth, Richgrove, Earlimart, Lost Hills, Maricopa, Grapevine, Frazier Park and Tehachapi |
| 41 Miles Plus | Traveling Beyond 41 Miles will be charged at $1.50per/mile |
***
Witness Services:
I Can Also Provide A Witness(s) For You To Sign Your
Documents For Additional Fee
$25.00 Each Witness
***
Waiting Time
Free for the first 15 minutes of Scheduled Appointment
$15.00 for each additional 15 minutes thereafter for Waiting
(16-30 minutes) $15.00
(31-45 minutes) $30.00
(46-60 minutes) $45.00
***
EMBOSSER
(Raised Seal-Inkless)
Is also available as needed
(Does not replace Ink Notary Seal)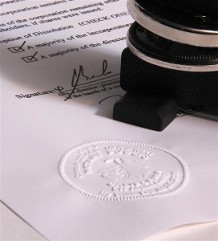 ***
Request an Apostille
The California Secretary of State provides an Apostille to authenticate California public officials' signatures on documents to be used outside the United States of America.
There are two ways to obtain an Apostille in California:
An Apostille can be requested by mail through our Sacramento office or by person. https://www.sos.ca.gov/notary/request-apostille/
***
I ALSO CARRY POWER OF ATTORNEY FORMS!!!
GET YOUR POWER OF ATTORNEY PACKAGES TODAY!
GET BOTH POWER OF ATTORNEY AND HEALTHCARE DIRECTIVE FORMS WITH NOTARY SIGNATURES FOR
(Additional Fee If I Have To Travel Beyond The City Limits of Bakersfield)
1 CALIFORNIA DURABLE POWER OF ATTORNEY FORM (EFFECTIVE IMMEDIATELY OR UPON DISABILITY)
plus
1 ADVANCED HEALTHCARE DIRECTIVE FORM
plus
MY TRAVEL TO YOU WITHIN THE CITY LIMITS OF BAKERSFIELD TO NOTARIZE YOUR DOCUMENTS.
ALL POA's DO REQUIRE
NOTARIZED SIGNATURES
***
THIS IS A MUST - NO EXCEPTIONS
The document signer(s) must be PHYSICALLY PRESENT before the notary. An essential element of the notarial act is personal, face-to-face communication between the document signer(s) and the notary. This is necessary for the notary to assess the signer's comprehension of the transaction and willingness to sign, to help ensure that neither coercion nor fraud are present, and to administer the required verbal ceremony. Physical presence of the signer is so important that notaries who fail to require it can be charged with a crime and punished.